Renew in just 5 mins.
No Inspection.
No Paper Work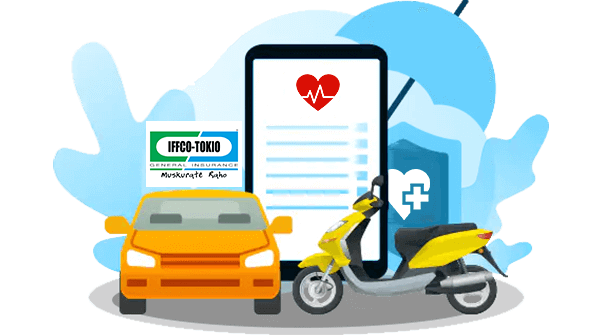 Compare

Car Insurance Plans
IFFCO Tokio General Insurance Customer Care
IFFCO-Tokio General Insurance Company Limited was incorporated in 2000 as a joint venture between the Indian Farmers Fertiliser Co-operative Limited (IFFCO), the world's largest fertilizer manufacturer, and Tokio Marine Group, which is one of the largest insurance groups in Japan. This company has come up with a sack full of general insurance products ranging from health, travel, car, two wheeler insurance products and many more. It has made the products specially designed for a wide range of customers. Gradually it has grown in immense popularity and trust among consumers. Therefore, naturally, many policy-seekers opt for this general insurer because of its rich background, reliability, and customer-friendly approach. So, once a policy-seeker gets connected to this insurer, he/she needs to know about its customer care service as well because whenever the situation arrives, you need your insurer beside you. Therefore, to give a detailed idea about the customer care service of this company, here are the mentions below.
Different Ways To Get Connected To IFFCO Tokio General Insurance Company
The company has designed its official website in such a way that you can find almost every solution to your problems there. And also, if necessary, you can get connected to the insurer by following any of the below methods.
By Call:
You can reach the company by calling them at their toll-free number 1800-103-5499 (8 am to 12 am). For queries related to Crop Insurance, you need to call 1800-103-5490. 
Via WhatsApp:
You can also WhatsApp the customer executive of the insurer using the number 7993407777. Remember, this number is not for calling.
By Email_ID:
You can directly write to the company using their official email ID support@iffcotokio.co.in or websupport@iffcotokio.co.in.
By Post:
You send a letter or the required documents to the company's official address as below.
Corporate Office 
IFFCO Tower, 
Plot No. 3, Sector 29, Gurgaon – 122001, 
Haryana, India.
Though Contact Us Form:
This facility is available on the company's official website under the Contact Us section. There you have to provide certain details such as customer type, product type, name of the insured, mobile number, and email ID. Their customer executive will contact you within 2 business days. 
Through Chat Bot – IRA:
In case you want to instantly download the policy copy, you may use the 'chat bot – IRA' facility of the company.
Via IFFCO Tokio Customer App:
To make the procedure customer-friendly, this company has come up with their IFFCO Tokio Customer App that is easily available on App Store and Play Store. You can download the app from there.
By Visiting a Branch:
Apart from the above methods, you can also contact the company by visiting one of the official branches of the insurer. Their customer executives are knowledgeable and experienced enough to resolve your issue and are always at your service. You can detect the nearest branch of the insurer using their Branch Locator facility that is available on their official website.
How Can Customer Care of IFFCO Tokio General Insurance Help You? 
Customer care is one of the most important aspects of an insurance company because you may face different problems related to its product(s) for which you may need assistance from the insurer. Customer care is designed keeping this fact in mind. Therefore, if you have a clear idea about the customer care of IFFCO Tokio General Insurance, you can get the following assistance.
Purchasing a Product – If you want to buy general insurance from the company and you find it difficult, the customer executives will be there for you always to resolve the problem.
Renewal of a Product – Renewing an insurance product from time to time is very important to avail of the benefits and facilities of the policy. Sometimes, we face glitches while renewing the plan. At that moment, the customer care help kicks in to make that process smooth and easy.
Claim Intimation – The insurer needs to be intimated as soon as the incident happens in case of filing a claim. Knowing the exact process of claim registration is very important because a single mistake can get your claim rejected. On top of that, you also need to know about the necessary documents that need to be submitted to avail of a successful claim. In these cases, the company's customer care will guide you thoroughly.
Logging in to Your Account – Keeping a tap on your account is pivotal as you need to keep yourself informed about each update of your policy. In that case, your online customer portal under the insurer will help you. If you face any issues login into your account, the customer care executives will be there to take care of that.
Understanding a policy – If you want to know about a new policy, or else if you want to understand a clause of your existing policy, you just need to get connected to the company's customer care. The rest will be handled by them.
Branch/hospital/garage locating – Though IFFCO Tokio has a branch, cashless hospital, and garage locator facility on their official website. Still, if you are not pro at internet handling, the customer care executive will help you to find out the nearest branch, network garage, or hospital within your vicinity.
To Avoid Misleading – Suppose someone is asking you to purchase a policy of IFFCO Tokio through him/her at a great discount rate and claiming that he/she is an official agent of the company, you can verify those details with the help of the customer care to find out whether that person's claim is authentic or not. In this way, you can easily avoid fraud.
Different Branches of IFFCO Tokio General Insurance
The company has come up with numerous official branches spread across the country. We have listed a few for your reference. Have a look.
Name of the state
Name of the city
Branch name
Address
Contact person
Contact details
Delhi
New Delhi
Delhi Retail – Emerging Brokers

Ground Floor, IFFCO House, 34, Nehru Place

New Delhi – 110019

Mr. Jeetendra Kumar

Ph No. – 011-49403333.

Email ID – jeetendra.kumar@iffcotokio.o.in

Gujarat
Ahmedabad
Bapunagar SBU

1st Floor, "Pushkar Business Park", Office No. FF 11-111, Near Shyamshikhar Crossroads

Ahmedabad – 380024

Mr. Samir A Desai
Email ID – samir.desai@iffcotokio.co.in
Karnataka
Bengaluru
Bangalore – Motor Dealer SBU

2nd Floor, Crown Point, 36, Richmond Town, Lavelle Road.

Bangalore – 560003

Mr. Saurabh Pandey

Ph No. – 080-22095959

Email ID – saurabh.pandey@iffcotokio.co.in

Kerala
Kochi
Kochi SBU
40/190,1st Floor, IFFCO Bhavan, Thottakkat Road, Near Kalyan Silks Kochi – 682011
Mr. M Raghu

Ph No. – 0484-2384711, 2380811

Email ID – raghu.m@iffcotokio.co.in

Madhya Pradesh
Bhopal
MP & Chhattisgarh
Bhagwan Complex, 1st Floor, 214, Zone – 1, MP Nagar, Bhopal – 462011
Mr. Pankaj Kumar Dhiman

Ph No. – 0755-4022650

Email ID – pankaj. dhiman@iffcotokio.co.in

Maharashtra
Mumbai – Thane
Mumbai Retail – Thane
3rd Floor, Tritan Dreams, Panchpakhadi, Service Road, Thane West Mumbai, Thane – 400602
Mr. Neeraj Sharma

Ph No. – 022-25396044

Email ID – neeraj.sharma@iffcotokio.co.in

Punjab
Amritsar
Amritsar SBU
Ram Tirath Road, 5A, Adarsh Nagar, Amritsar – 143001
Mr. Sujeet Bhambhoo

Ph No. – 0183-2566980

Email ID – sujeet.bhambhoo@iffcotokio.co.in

Rajasthan
Jaipur
Customer Service Center – Jaipur
2nd Floor, Bhagwati Bhawan, Govt. Hostel Crossing, MI Road, Jaipur – 302001
Mr. Nitin Verma

Ph No. – 0141-4322500

Email ID – nitinv@iffcotokio.co.in

Uttar Pradesh
Agra
Agra – SBU
Sumriddhi Business Suites, Suite No. 102, 103, 1st Floor, Block 38/4A, Sanjay Place Agra – 282002
Mr. Sanchit Jain

Ph No. – 0562-2528008, 2528564, 2528058, 2528001.

Email ID – sanchit.jain@iffcotokio.co.in

West Bengal
Kolkata
State – West Bengal, Odisha, Sikkim and Jharkhand
5th Floor, "Saket", Near Apeejay School, 44, Park Street, Kolkata – 700016
Mr. Puneet Mahajan

Ph No. – 033-44072100

Email ID – pmahajan@iffcotokio.co.in

Tamil Nadu
Chennai
Tambaram SBU
1st Floor, 256/102, Mudichur Road, West Tambaram, Chennai – 600045
Mr. B Shivakumar
Email ID – b.shivakumar@iffcotokio.co.in