Renew in just 5 mins.
No Inspection.
No Paper Work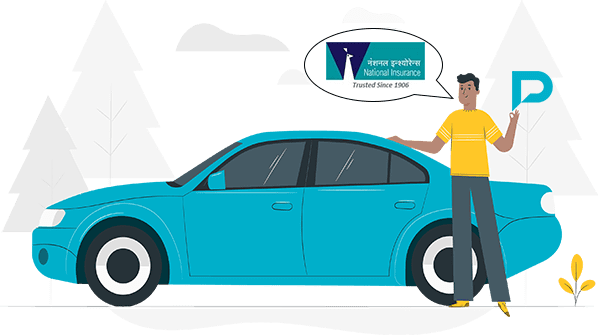 Compare

Car Insurance Plans
National Car Insurance Claim
Purchasing a car in India has become a necessity more than a want. However, it's important to have car insurance to cover any unforeseen incident that may happen. But the work doesn't end here. In addition to purchasing car insurance, you must know how to claim so you can get compensation against the loss incurred by your vehicle. This is where the importance of National Insurance Car insurance claims comes into play.
One of the most renowned insurance provider grants a simple claim process to its customers, which is divided into two- Cashless and reimbursement. Let's find out more about them in the later part of the content.
Key Highlights & Features of NIC Car Insurance
Listed below are the key features and aspects of the NIC car insurance policy.
The facility of 'No Claims Bonus': It would be only available if no claims are filed throughout the policy's term. Discounts are also available if you choose a higher voluntary excess.
Credible Insurance Policy: With years of experience and an unmatched customer-centric approach, you can easily put your trust in this company.
Cashless Network Garages: One of the biggest features of NIC car insurance is that the company has partnered with a significant number of garages across India to make cashless claim settlements as simple as possible.
24*7 Assistance: The company has a dedicated team of professionals that is ready to offer round-the-clock assistance to its customers.
Hassle-Free Purchase: Buying motor insurance online with a credit/debit card or through net banking is quite simple and doesn't require any kind of prior knowledge. It would take only a few minutes.
How To Make Cashless & Reimbursement Car Insurance Claims with National Insurance?
Here are the steps to file a cashless car insurance claim with National General Insurance:
Step 1: Inform the insurance company.
If you are looking to file a claim, contact National General Insurance's customer service staff by phoning the toll-free number 18003450330 and informing them of the insured's car accident. Your claim will be registered with the company, and you will be given a claim registration number.
Step 2: Examine the wrecked vehicle
Once you are done making the call, the National General Insurance Company will schedule an inspection and dispatch a surveyor to assess the degree of the insured's vehicle's damage. You will be needed to submit the surveyor's requested documentation for scrutiny.
Step 3: Reports and documentation must be submitted.
The surveyor will share a report based on the inspection, according to the terms and circumstances of the terms and conditions. Following that, the insurer will confirm its liability and inform the insured of the deductibles.
Step 4: Repair and settlement of the claim
You can drive your automobile to one of their network garages for repairs after receiving confirmation from National General Insurance. You only have to pay your responsibility deductibles there, and the remainder will be covered by the insurance company's refund.
Note: The company may ask for a few additional documents that you need to present at the time of being asked.
If you are unable to transport your automobile to a garage that is registered with National General Insurance's cashless garages, you may take it to any garage for repairs. You will be needed to file a reimbursement claim with the insurance company in this scenario.
Step 1: Make contact with your insurance company.
Call the National General Insurance Plan toll-free at 18003450330 and tell them about the accident. Request that a representative begins the reimbursement claim settlement process. National General Insurance will provide you with a claim number, information on the documents that must be supplied, and any extra procedures that must be taken.
Stage 2: Vehicle Inspection and Documentation
After making a call to the National Insurance Company, an examiner will be dispatched by the insurance provider to inspect your vehicle. After that, you can take your vehicle to whichever garage you like for repairs. Submit the completed claim form, as well as any papers requested by the surveyor, at this time.
Step 3: Have Your Vehicle Repaired
After receiving approval from the surveyor, have your automobile towed to your preferred mechanic and settle for the adjustments.
Step 4: Submit a Reimbursement Request
To begin the reimbursement process, submit the needed documentation to the insurance company. The insurance will reimburse you for the repairs up to the claim amount after deducting the appropriate deductibles and depreciation.
Documents Required for Making a Car Insurance Claim
A variety of documentation is necessary when filing a claim for your car insurance coverage. The following are some of them:
The claim form
A photocopy of your driver's license
A copy of the car's RC book
A certified copy of your PUC certificate
Your documents proving your identity
Third-party and theft-related police reports
Once you've submitted your paperwork, the firm will process and settle your vehicle insurance claims.
Why Would National Insurance Reject Car Insurance Claims?
Here are some of the common reasons why your claim often get rejected:
Inabilite the claim on time: If your car is involved in an accident, you should report the incident as quickly as feasible. Most insurers will reject claims if there is a delay in filing them. In most cases, insurance provides you with a 24- to 48-hour window to report the accident. Furthermore, insurance companies will always deny a claim if the driver drove the automobile immediately after the collision, inflicting additional damage to the vehicle.
Damages as a result: Consider the case of an automobile with a damaged element that is not covered by insurance. If this part damages another portion of the car (that is covered under the insurance), the insurer will not cover the latter damage because it was caused by a side effect.
Driving when intoxicated: If you are involved in an automobile accident while driving while inebriated, you will not be able to file a compensation claim.
Vehicle modifications: If you implant a CNG kit in your vehicle, add accessories, or change the vehicle's body, you must notify your insurer right away, or your claim in the event of an accident will be denied.
Making a lot of Unnecessary claims: It will be refused if the insurance provider discovers that you are making false or inflated claims. You may also face legal consequences as a result of your actions. It's critical to present only the most pertinent details concerning the accident.
Frequently Asked Questions