Renew in just 5 mins.
No Inspection.
No Paper Work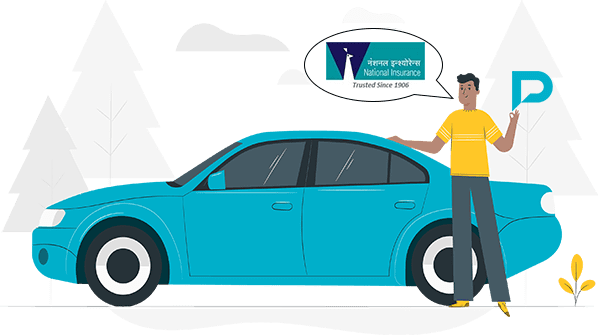 Compare

Car Insurance Plans
National Car Insurance Renewal
National Car Insurance is designed to protect private car owners against damages to their vehicles as well as legal obligations. However, one of the features that have made life easier for the National Car Insurance holder is the option to renew car insurance online on the company's website without any hassles. Let's know about the renewal process in detail!
How To Renew National Car Insurance Online?
In just a few simple steps, you can renew your car insurance with National Insurance.
Go to National Insurance's official website.
On the homepage, select the 'Quick Renewal' option. A brief renewal page will be displayed on the screen.
On the policy renewal portal, enter your policy number and the captcha code.
Before proceeding to payment, confirm the premium quote and thoroughly review the policy's features and other details. Then use a credit card, debit card, or net banking facility to complete the transaction in a secure and simple online way. Your policy will be renewed successfully.
Benefits Of Renewing National Car Insurance Policy
Some of the benefits of renewing the National Car Insurance policy are as follows:
Hassle-Free Issuance: Within just a few steps, the National Insurance company allows the policyholder to renew his/her car insurance policy. There is no unnecessary paperwork in the online policy renewal process. The entire process is simple and the policy is issued almost immediately.
No Claim Bonus: National Insurance's car insurance plan gives a No Claim Bonus (NCB) to the policyholders who do not file any claims during the policy year. This is a fantastic way to encourage drivers to keep cautious on the roadways. The NCB can be turned into renewal premium savings for the next insurance year.
Attractive Discounts: Vehicles with anti-theft or other security equipment are eligible for discounts provided by the company. Additionally, premium discounts are available for cars that are specifically constructed or modified for usage by disabled, blind, or mentally challenged people.
Cost-Effective: Because the insurer gives various discounts for these transactions, renewing car insurance online is less expensive. When a policy is offered online, there are substantial cost parameters that are removed from the workflow from the insurer's standpoint.
Higher Security: On its web portals, the National Insurance company uses security solutions that correspond to global security requirements. This protects the confidentiality of your personal information. In comparison to the renewal process that involves an insurance agent, it has also been discovered that the incidences of fraud are nearly non-existent when you renew vehicle insurance online.
Responsive Customer Support: The company has an excellent support team that is always equipped and ready to serve its consumers 24 hours a day, seven days a week. Therefore, if you encounter any kind of problem during the renewal process, you can call the company's customer care number to seek help.