Renew in just 5 mins.
No Inspection.
No Paper Work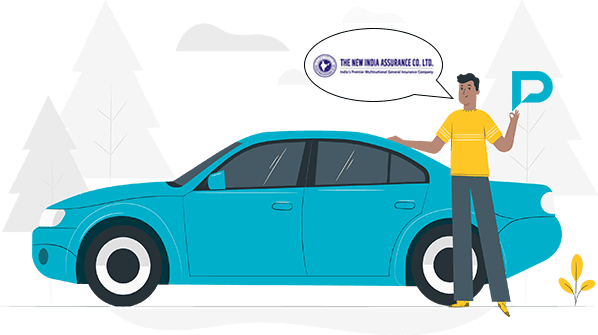 Compare

Car Insurance Plans
New India Assurance Car Insurance Renewal
New India Assurance is a well-known brand when it comes to providing services. One such feature is the ability to renew your car insurance online. The process is fully web-based and hassle-free and may be done within a few minutes. Let's know more about the New India Assurance Car Insurance renewal.
How To Renew Car Insurance By New India Assurance?
In just a few easy steps, New India General Insurance has made the online car insurance renewal procedure simpler and quicker.
Go to the official website of New India Assurance.
On the home page, click on the "Quick Help" option.
Now select "Quick Renewal" from the drop-down menu.
A page will open up asking for your details such as customer ID and policy number. Fill in all the necessary details and then click on "Proceed".
Now you are required to use a debit card, credit card, or net banking to make the payment online using the payment gateway. The policy documents are provided shortly after the final payment.
Benefits Of Renewing New India Assurance Car Insurance Policy
You will continue to receive the following advantages when you renew your car insurance plan with New India General Insurance on time:
No Claim Bonus: The car insurance plan from New India Assurance offers a No Claim Bonus (NCB) to clients who avoid making any claims throughout the policy year. This is an excellent method to remind drivers to drive carefully. For the following insurance year, the NCB can be used to reduce renewal premium costs.
3000+ Network Garages: New India Assurance Company has tied its knots with more than 3000 network garages, where you can avail cashless repairs for your cars. Therefore, the cashless cover will cover the costs incurred if you bring your car to one of the network garages for repairs. This implies that you won't have to make any up-front payments. The garage will receive payment directly from the insurance company. Additionally, you won't need to submit a claim.
Incredible Customer Support: The company has a top-notch support staff that is always prepared and ready to assist its customers around the clock, seven days a week. As a result, you can phone the company's customer service hotline to ask for assistance if you run into any difficulties throughout the renewal process.
24/7 Emergency Car Assistance: If you will renew your New India Assurance car insurance policy in time, the company will offer 24/7 emergency car assistance in case of any unfortunate incidents like vehicle breakdown, third-party damage, fire, etc.
Contact Details Of New India In Case Of Renewal Problems
If you fail to renew your New India Assurance car insurance policy, then you can visit their nearest branch office. You can visit the official website of the company and use their "Locate Us" feature for finding a branch near you. Alternatively, you can call them at their toll-free number 1800-209-1415. 
Moreover, you can also mail them at tech.support@newindia.co.in. The customer support team of the company will help you out in the renewal process of your car insurance policy.