Renew in just 5 mins.
No Inspection.
No Paper Work
* Subject To Underwriting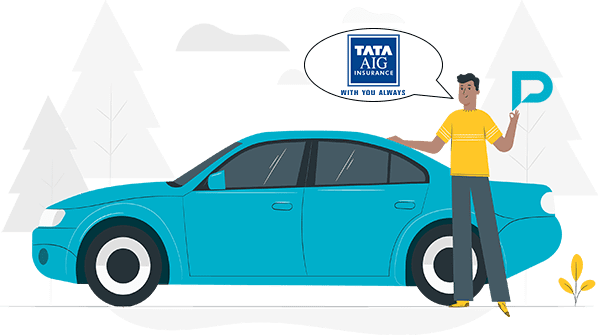 Compare

Car Insurance Plans
Tata AIG Comprehensive Car Insurance
Beyond mere compliance, the Tata AIG Comprehensive Car Insurance policy promises a comprehensive umbrella for your beloved vehicle. It is a protective cocoon that not only shields you from legal troubles but also embraces your car with all-around protection against unforeseen perils. One can confidently ride with comprehensive insurance, knowing that even the most unexpected incidents will not throw you off track. Let's find out more about it.
Key Benefits of Comprehensive Car Insurance By Tata AIG
The following are the important benefits of this insurance.
Safeguard Against Third-Party Liabilities – It offers coverage for third-party liabilities. In the unfortunate event of an accident caused by you, the policy will take care of the financial obligations arising from bodily injuries, disabilities, or property damages suffered by others involved in the accident. It means you can drive confidently, knowing you are protected from potential legal and financial repercussions.
Protection for the Car – The policy protects your beloved vehicle from various perils. Whether it is damages caused by theft, fire, burglary, earthquakes, or even floods, your policy is a robust fortress, ensuring your car remains safe and sound. Whatever nature throws your way, your cherished possession remains shielded from potential financial losses.
Personal Accident Cover – Comprehensive insurance of Tata AIG cares for your car and you as the owner-driver. In the unfortunate event of an accident, the policy offers personal accident cover of up to Rs. 15 lakhs, providing financial support to you or your family in case of injury or death. This added layer of protection provides mental satisfaction, knowing that you and your loved ones are well-taken care of, no matter what happens on the road.
Customization with Attractive Add-ons – The product offers the flexibility to customize your policy with various attractive add-ons. You can enhance the base coverage by opting for extras such as zero depreciation cover, no-claim bonus protection, emergency roadside assistance, and more. These add-ons cater to your unique needs and preferences, allowing you to create a personalized insurance plan that fits your lifestyle perfectly.
Protection against theft – In case your car is stolen or suffers severe accidental damage beyond repair, the insurance company will pay you the Insured Declared Value (IDV) of your car, its total market value.
Own damage cover – The own damage cover will protect your car against damages caused by fires resulting from explosions, self-ignition, and damages due to human causes like terrorism, vandalism, and strikes.
Add-on covers available with the Tata AIG Comprehensive Car Insurance
Tata AIG offers a comprehensive set of 12 add-on benefits that you can include in your car insurance policy to enhance coverage and address specific needs. 
Zero Depreciation This add-on covers the depreciation cost deducted from your car's parts during claims, excluding the first two claims from the depreciation deduction.
No Claim Bonus Protection With this add-on, you can file a fixed number of claims in a policy year without affecting your accumulated No Claim Bonus discount.
Roadside Assistance Provides help in case of a car breakdown in sparsely populated areas by arranging fuel supply, towing, or repairs.
Return to Invoice This covers the difference between the car's purchase price and compensation due to depreciation and may cover the gap for a new car of the same make and model.
Repair of Glass Fiber and Plastic Parts Covers damages to glass, fiber, and plastic parts without affecting the No Claim Bonus discount, with one claim allowed per policy year.
Daily Allowance Provides compensation for travel expenses when your car is under repair for an extended period.
Emergency Transport and Hotel Expenses Offers financial support for overnight accommodation and commuting expenses if your car is damaged during a journey.
Key Replacement Covers replacement costs for lost car keys to prevent potential car theft.
Engine Secure Covers repair or replacement costs for the engine if damaged by water, ideal for flood-prone areas.
Tyre Secure Covers financial damages to car tires or tubes due to accidental damage.
Consumable Expenses Cover the cost of replenishing consumables like gearbox oil, nuts & bolts, oil filters, etc., during claims.
Loss of Personal Belongings Covers the loss of personal belongings such as CDs, audio and video tapes, and clothes in case of an accident. Remember that certain exclusions may apply to specific add-ons, and coverage for personal belongings like money, watches, jewelry, and credit/debit cards is not included.
General Exclusions of Comprehensive Car Insurance Offered by Tata AIG
To have a comprehensive idea of an insurance policy and to avoid future complications, it is important to go through the exclusions of the policy carefully. Therefore, to get an overall idea of the comprehensive car policy of Tata AIG, the general exclusions of it are mentioned below.
The expenses of normal wear and tear of the car are not covered by the policy if that cover is not purchased by the insured person as an add-on cover separately.
The costs of electrical and mechanical breakdowns have to be borne by the policyholder.
If the car is used outside the specified geographical area or used for adventurous sports or for any activity for which is not authorized, then the insurer will not take any responsibility for the damages or losses.
Suppose the car meets an accident while the driver is under the influence of alcohol, drugs, or any other intoxicating substance. In that case, the expenses will not be compensated by the insurance company.
If an accident happens while the car does not have any active insurance policy or is not registered properly, then the insurance company does not take any liability for that.
If the driver does not have a valid license while driving the car, that will also fall under the category of exclusions.
If the car suffers losses and damages due to wars, strikes, riots, war-like situations, public unrest, nuclear radiation, etc., then the expenses of that loss have to be borne by the insured person.
If the accident is self-inflicted, suicide or suicide attempts are permanently excluded from the policy.
Buying Process of Tata AIG Comprehensive Car Insurance
Follow the below step-by-step guide to avail of a seamless buying process of this policy.
Navigate to Tata AIG's official website. Once you have arrived at the website, steer straight to the Car Insurance section.
There will be the Buy Insurance for a New Car option. Click on that.
Share your personal information, including your name, contact details, and address. These details are essential for processing your insurance application and generating personalized policy documents.
After that, on the landing page, put the model number, variant, manufacturing year, registration number, and other relevant details in the right place. By providing these insights, the insurer can tailor the premium and coverage to suit your car's needs perfectly.
Review the policy details, coverage limits, deductibles, and premiums.
Make necessary customizations based on your preferences, ensuring your chosen policy aligns perfectly with your requirements.
Click on the Buy Now option to pay the premium, where you can choose your preferred method. Whether through net banking, debit/credit cards, or digital wallets, paying for your chosen policy is a breeze.
Upon successful payment, download the policy document for future convenience.
The company offers both reimbursement and cashless claim procedures. For a cashless claim, one has to repair the car in a network garage of the company, and for a reimbursement claim, one can choose any garage of his/her choice. The general claim process under this insurer is as below.
As soon as the accident happens, inform the insurer.
You can either call 1800-266-7780 to file a claim or visit the Claims Support page and fill in the necessary information.
After receiving your claim request, the company will send you a link for self-inspection to your registered mobile number.
With the help of the self-inspection form, fill in details about the damages to your car online. Apart from this, your vehicle will also be inspected by one of their surveyors.
You can choose between receiving reimbursement for the damage repairs or making a cashless claim through the network of garages.
Some common documents needed for claim settlement are a completed claim form, FIR (in certain cases), policy documents, identity proofs, address proofs, etc. Keep them handy before filing the claim.
You can track the acceptance and transaction process online after you complete filing the claim.
The company will examine the claim to see if it meets the guidelines as given in the policy. Once approved, Tata AIG will settle your claim within the stipulated time period.
Renewal Process of the Tata AIG Comprehensive Car Insurance
Without visiting the official branch, one can renew the car insurance online. Here is the process.
Go to the official website of Tata AIG.
Select the Car Tab, and there will be the Renew tab. Click on that.
Enter your car registration number, and click on the Get Price option.
Provide other details, such as the existing policy number, if necessary.
The renewal amount will be displayed before you.
Check it twice, and if no discrepancy is found, pay the amount online safely.
Upon successful renewal, download the document for future reference.
Frequently Asked Questions