Renew in just 5 mins.
No Inspection.
No Paper Work
* Subject To Underwriting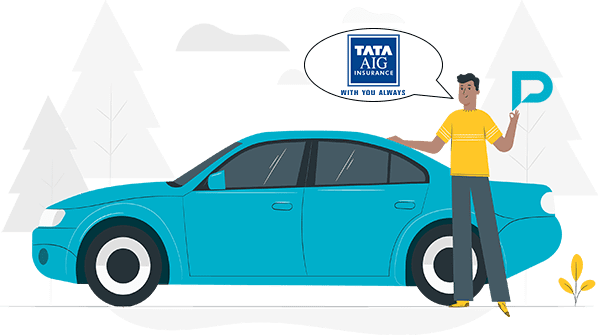 Compare

Car Insurance Plans
TATA AIG Third-Party Car Insurance Policy
In India, owning a four-wheeler has become a necessity and so is a car insurance policy. Third-party liability and comprehensive policies are the two main types of auto insurance. Driving a car in India requires having a third-party liability auto insurance policy, although comprehensive coverage is not required.
Tata AIG third-party policy covers any harm or destruction the insured car may cause to a third party or their property. All of the insured car's financial and legal obligations are covered by this policy. Thus, having a stress-free driving experience is made possible with the Tata AIG third-party vehicle insurance policy.
Features & Benefits of Tata AIG Third-Party Car Insurance
Here is the list of the features and benefits of TATA AIG Third-party car insurance.
Property Damage: The third-party property damage by the insured car is covered by the TATA AIG third-party insurance policy up to 7.5 lakhs.
Personal Accident Cover: To your third-party auto insurance policy, you may add a personal accident cover to safeguard yourself from any bodily injuries brought on by an accident. This personal accident insurance covers up to Rs. 15 lakhs in financial losses due to hospital bills and medical expenses. In case of any unforeseen circumstances, it also provides your family with a death claim.
Damages due to injuries to or death of a third-party person: The third-party car insurance will shield you from financial losses resulting from the damage claims made by the third party or their family if an accident involving your insured automobile results in the third-party's injuries or even their death.
Purchasing Options: You have the option of purchasing third-party automobile insurance online through the Tata AIG website or in person by visiting one of our local locations.
Cashless Claims: The third-party vehicle insurance policy permits cashless repairs, so you won't have to come up with the money to cover third-party damages out of your pocket, should your covered automobile cause damage to a third-party vehicle.
What Does the Tata AIG Third-Party Car Insurance Cover?
The TATA AIG car insurance policy covers the following losses or damages to the insured car that happened in the aforementioned scenario:
Accident-related losses or damages
Damages brought on by a vehicle's theft or break-in
Damages brought on by fire, explosions, or spontaneous combustion
Damages brought on by calamities such as hail, frost, cyclones, fire, flood, typhoons, earthquakes, and so on.
Terrorist or military action
Losses brought on by landslides or rockslides
Cost Of TATA AIG Third-party Insurance Based On Your Car Details
Use the third-party car insurance calculator to assess the cost of your Tata AIG third-party car insurance, which takes into account the cubic capacity (cc) of the vehicle's engine by the premium rates established by the Insurance Regulatory and Development Authority of India (IRDAI).
Although the price of auto insurance is standardized, it is still required to figure out rates because each car's cubic capacity is different.
For example:
A software engineer named Mr. Dhruv Rathee, who is working at an MNC, has third-party car insurance. He will pay the following amounts under these circumstances:
If he owns a car less than 1000 cc, he may need to pay Rs. 2, 094.
If he owns a car over 1000cc but not more than 1500cc, then he may need to pay Rs. 3, 416.
If he owns a car of more than 1500cc, then he may need to pay Rs. 7,897.
What To Do While Raising TATA AIG Third Party Car Insurance Claim?
Listed below are the things to do while claiming your third-party car insurance.
File an FIR
It is required to report the incident to the local police department as soon as your insured vehicle is involved in an accident involving a third party. When filing a claim, the insurance company must receive a copy of the FIR.
Let Your Insurer Know
The most important thing is to notify your insurer as soon as an accident occurs with an insured car. If you don't tell your insurance of the car-related accident within a certain amount of time, your claim could be denied. Every single forgotten information can make it more difficult to settle your claim. It is therefore advised to notify your insurer of the accident as soon as possible.
Gathering of Pertinent Data
You must keep a record of the accident's circumstances to establish a successful claim. In addition, you should describe the damage and any injuries sustained by the driver and passengers. The claim process will go more smoothly if you have proof or a supporting document.
Police No-Trace Certificate
You might also need to obtain a copy of the FIR in cases of theft or vandalism. The police department issues this document as proof that the car was stolen and cannot be located. An important document in the settlement of a theft claim is the no-trace certificate.
Raising the Claim
Raising a claim for compensation for the insured car is the final stage. You can file a claim for the compensation once you have gathered all of the necessary paperwork. The registration certificate for your automobile, a copy of the FIR, a copy of your insurance policy, a copy of your driver's license, a No-trace certificate (if the car is stolen), repair invoices and receipts, etc. are among the required documents. Your claim will be settled appropriately once your insurer has validated the paperwork.
Frequently Asked Questions